Our Foreign Exchange Students
Part 1: Dimash and Emilie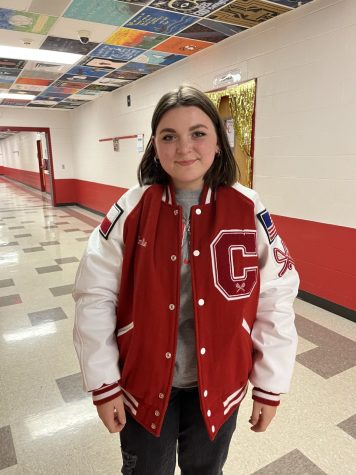 It is Canyon High School's privilege and honor to welcome all of the foreign exchange students in our 2022-2023 school year! We have seven foreign exchange students this year. Canyon High School is lucky to have Dimash Laiykov and Emilie Medeau around to spread their joy and knowledge of their home countries. 
Dimash is from Kazakhstan. Kazakhstan is located in central Asia near China and Russia. He says that his favorite thing about Kazakhstan is, "Nature" or "the mountains". Dimash won a scholarship from the Future Leaders Exchange Program to get here. 
Dimash says, "The biggest difference is probably the people. In my country, people do not smile a lot. I think we are more realistic, and Americans are more optimistic." Dimash also explained how his school was only 600 people, so moving to a school this size was a bit of a shock. He said, "America takes sports more seriously. In my country, we are more focused on education." 
When asked about his favorite part of America he said, "Being an exchange student is pretty cool I think." He says that he loves learning more about American culture from his host family and other experiences. Dimash says that he misses, "The food probably. Our national food is called Beshbarmak." Beshbarmak consists of boiled meat, onions, and noodles. He says, "A lot of people do not know about my country, and I want more people to know about my country."
Emilie is from France. She says that she wanted to become a foreign exchange student because, "I really wanted to live in America and also I wanted to learn more English… At first, I wanted to live in California or Texas." She explained that you don't choose where in America you are assigned. "So when I knew that I was going to Texas, I was really excited." 
Emilie said that the biggest difference between France and America is transportation. She explains that in France, you walk everywhere. If you don't walk, you take the bus, but in America, you drive everywhere. 
Emilie's favorite part about America is, "High school. It is so much more fun than our high schools. [French high school] is kind of boring. We just study. We don't have sports or clubs in high school. I think American high school is so much fun." 
Emilie has been having so much fun in America so far, but the biggest thing that she misses is French bread. Finally, she says, "Come to France because it's a very nice place to visit. And not only Paris!" She says that the South of France or Nice (pronounced 'niece') are both very nice places to visit.
If you see these bright people in the halls, welcome them! They have amazing stories and different experiences and are a joy to have around our campus.
About the Writer
Kamryn Jasch, Staff Writer
Hello! My name is Kamryn Jasch, but I go by Kamie, and I am a senior this year. Last year I moved from Thornton, Colorado. I love the mountains and going...