Pineapple Upside Down Cake Recipe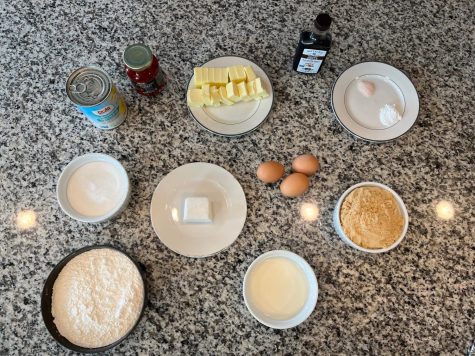 April 20th is National Pineapple Upside Down Cake Day! Pineapple Upside Down Cake tastes best when made in a cast iron skillet but can also be made in regular cake pans. The cast iron skillet creates a caramel, crusty topping that makes it ten times better than a pan recipe. Most of the ingredients are already in the average pantry! This is an easy, fun spring dessert to make for any event! 
Ingredients:
*Makes 2 cast iron skillet cakes or 1 13" x 9" cake
Cake Batter:
2 ¼ cups of Cake flour (Don't have cake flour? Check out the Tips section below!)

1 ½ cups of white granulated sugar

¼ cup of shortening

½ cup of cold, unsalted butter (cut into thin slices)

¾ cup of milk

3 large eggs

2 ½ teaspoons of baking powder

1 teaspoon of salt

1 ½ teaspoons of vanilla extract
Topping:
½ cup unsalted butter, divided

2 cups of packed, light brown sugar

20 oz can of pineapple rings

Jar of maraschino cherries
Things you'll need:
Cast Iron Skillet, or 13" x 9" pan

Mixing bowls

Measuring Cups and Spoons

Hand mixer

Decorative pan or plate for the cake to be transferred to.
Directions:
Preheat oven to 375 degrees.

Prepare topping by putting ¼ of a cup of butter in the cast iron skillet.

Put cast iron skillet in oven until butter is melted, around 2 minutes.

Remove the skillet from the oven and sprinkle 1 cup of the light brown sugar over the butter.

Drain pineapple rings (save the juice!).

Gently place pineapple rings into the brown sugar mixture and place a maraschino cherry in the middle of every pineapple ring.

Start to prepare cake batter by combining all of the batter ingredients in a large mixing bowl, start to mix at a low speed until all ingredients are incorporated, about 30 seconds.

Increase speed to medium and mix for about 5 minutes, scrape the side of the bowl as needed.

If cooking in a cast iron skillet, separate the batter evenly into two bowls (it's okay if there are small butter chunks in the batter).

Carefully, but quickly, pour batter over the pineapples. Don't pour onto one spot, evenly spread the batter across so that you don't mess with the pineapples.

Bake for 30 minutes if using a skillet. If using a pan, bake for 35- 40 minutes. The sides should be bubbly and the top will be golden brown. Put a toothpick in the center to ensure the batter is fully cooked.

Take out of the oven and cool for 10 minutes on a wire rack.

Place a plate or decorative pan over the skillet. Using oven mitts, invert the cast iron skillet onto the plate.
Tips:
If you don't have cake flour, sift 2 ¼ cups of all-purpose flour but take out 4 tablespoons. Replace with 4 tablespoons of cornstarch.

If you're in a rush, you can also use a box of yellow cake mix. Baking time may vary, but it's the same process.

You can also add small amounts of your leftover pineapple juice to make the cake spongy and moist. Be careful not to add too much or you'll have a runny cake.

If you are making 2 cast iron cakes, you can just wipe down the skillet after the cake has been transferred and start the process over again.
About the Writer
Kamryn Jasch, Staff Writer
Hello! My name is Kamryn Jasch, but I go by Kamie, and I am a senior this year. Last year I moved from Thornton, Colorado. I love the mountains and going...