SPUD Week at Canyon High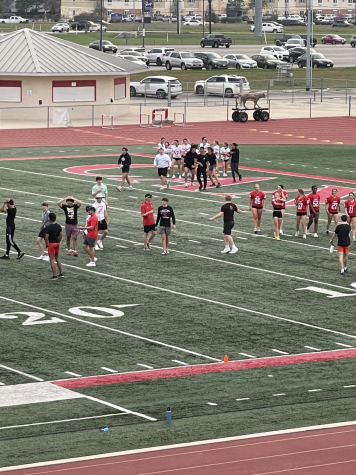 Mrs. Avery – Gibson is the sponsor for the Student Council. This year they held the teacher for a day auction. Every year they pick a student on campus to design the t-shirts. This year Callie Henderson designed the SPUD t-shirts.
Officer Anna Benson and member Harry Benson started the student chapter of the Food for Kids organization. This year instead of just sponsoring one kid, they wanted to help the whole community. Their favorite part about SPUD is how the whole community can get involved. Something not everyone knows about SPUD month is how much planning Student Council and other organizations put into it.
The volleyball team, led by Coach Sanders, held a "Power Buff" game, where the volleyball girls were the coaches and the football players played volleyball. Coach Sanders said that the idea of students giving back is inspiring, and she loves the fact that they are giving back.
The swimming team, led by Coach Leeber, held a swimming relay race, where students and teachers raced each other. If you donated money, you got time for the swimming team.
FCCLA had a movie night, where students and guests could go out to the football field with a blanket or a chair and watch "Lion King".
Mrs. Crisostomo sponsored SPUD week by putting on the dodgeball tournament to help Food for Kids. Mrs. Crisostomo said, "It feels really great to be contributing to a good cause, and hopefully all of the events and the activities are able to raise really good money for the kids on the weekend." 
Mrs. Chestnutt's group, NHS, held the duct tape challenge where you were able to watch your favorite teacher get duct taped to the Grand Canyon wall and help them to raise money for Food for Kids. Mrs. Chestnut said, "I think that it's really cool that it's a CHS organization…the duct tape challenges allow [students] to watch their teachers be goofy."
Mr. Parker led the tennis team in a tennis competition. Mr.Parker said, "I love it. It's an opportunity for the team and the players to come and step up and help a worthy cause."
This year's SPUD events led by Canyon High School organizations raised over $6,500 to be donated to Food for Kids. Shout out to all who had a part and gave from their heart.
About the Contributors
Jessica Molina, Staff Writer
Hi, I am Jessica Molina and I am in 9th grade here at Canyon High School. Here are some fun facts about me. I have two dogs and one cat. I have two siblings,...
Jayden Hopper, Staff Writer
Hello! I'm Jayden Hopper. I'm a freshman at Canyon High School. I do out-of-school softball. My favorite subject is math. I enjoy playing with my brother...