The Addams Family Pops Into Canyon High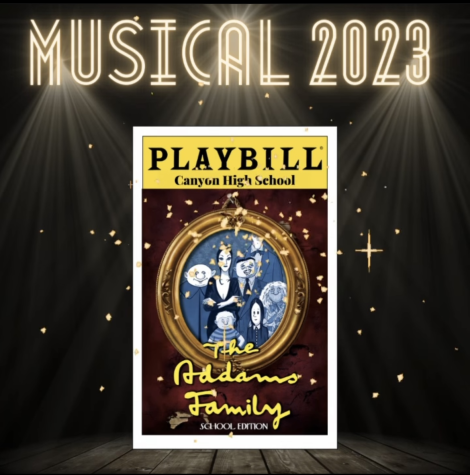 Canyon Theater has decided on the musical for the 2023-2024 school year! The theater department started out with eight different options for next year's musical. The options were: Shrek, Beauty and the Beast, Mean Girls, Anastasia, Chicago, A Funny Thing Happened on the Way to the Forum, Addams Family, and Little Shop of Horrors.
The theater department had the public vote online on the options. They posted the bracket on Instagram so that everyone could keep up with the decisions being made. After discussing the votes, the final four were: Shrek, Anastasia, Chicago, and Addams Family.
Finally, they held a meeting in the PAC on April 25th that showed the final two: Shrek and the Addams Family. Eventually, they came to the final decision of the Addams Family!
Theater teacher and director Ms. Ridge says, "The cool thing was we all, myself, the tech director, and the choir director, all weirdly enough thought about the same thing without talking to each other… It was really cool not to have to defend your choice, or to try to convince anyone because we were all on board."
Ridge explained that choosing the musical options is always fun, but essentially the final musical, "Depends on our students… We want to make sure we're choosing the musical that our students can enjoy and be confident in, and I thoroughly believe we have the kids to pull off this absolutely ridiculous musical."
The Addams Family will show on Friday, October 27, 2023, at 7 pm. It will also show that Saturday, October 28, 2023, at 2 pm and 7 pm. All performances will be held in the PAC.
As the performance dates get closer, the theater program will do free ticket giveaways! Join their Instagram @theatercanyonhs to get more information on the musical and other upcoming events and to possibly win free tickets to see Addams Family!
About the Writer
Kamryn Jasch, Staff Writer
Hello! My name is Kamryn Jasch, but I go by Kamie, and I am a senior this year. Last year I moved from Thornton, Colorado. I love the mountains and going...