Add More Life To Your Car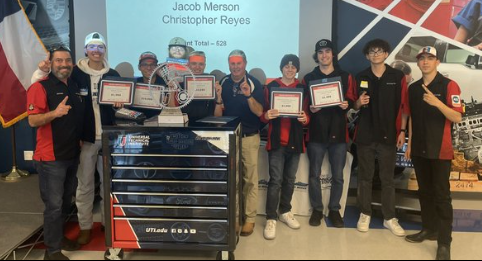 Like me, not many people understand the hard work put into Auto Tech because I was never interested in learning about it. Until Mr. Newkirk said they participated in the Universal Technical Institute and it was their top tech challenge for 2023.
Mr. Newkirk has been teaching auto tech for almost five years. He then described how having patience is a virtue that he had to develop, particularly when dealing with students who had a younger perspective.
They practiced five various skills such as electrical work and HVAC (heating, ventilation, and air conditioning), which required them to use the circuits and brakes that they had learned in Auto One. Students had to describe the function of each component, such as a wheel, in the system.
Christopher Reyes participated in the Universal Technical Institute competition and won a $10,000 scholarship which was such an accomplishment that he could not even put his feelings into words. He then talked about it being a hard feeling to describe, especially when you don't expect to win. He stated that, "We prepared the entire week by studying HVAC and electrical and learning how to use a mechanical micrometer to practice measuring motors. 
There were also a few other winners as well as the whole auto tech program winning 1st place, 8th place, and 10th place at the UTI competition, and 2 $10,000 scholarships were given to senior Jacob Merson as well as senior Christopher Reyes. They also won the shop a $10,000 toolbox. Auto Tech has a lot going on all the time and they never stop learning.
About the Writer
Marcella Varela, Staff Writer
Hey, I'm Marcella Varela and I'm a sophomore at Canyon High School. I am one of our school's JV basketball managers, and I enjoy taking photos of nature....