Step Up for Comp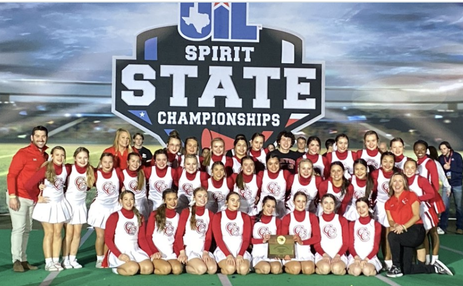 Our Canyon High School cheer team has worked hard in preparation for competition. All that work has been very rewarding. On January 21, they became category state champions. In band chant, they scored an amazing 59.4 out of 60 points! This was the highest score in a category in UIL history. They were almost perfect, so congratulations to them.
Coach Gayla Gonzalez is really proud of her girls, especially how, "They overcame adversity." She continued to say, "It is not always easy being a cheerleader. There are so many distractions…but they all seek to rise above to be great students. Coach Gonzalez truly thinks her cheerleaders are special and is so glad to be their coach.
The Canyon High School cheer team went on to NCA High School Nationals in Dallas where they brought the JV cheer team for the first time in Canyon High School history. At NCA Nationals, Calvin the Cougar killed comp! He won the NCA Major Mascot Award.
We are so happy to have our cheer teams and Calvin the Cougar represent us. They showed out and did an amazing job.
About the Contributor
Jalen Suarez, Staff Writer
My name is Jalen "Chacho" Suarez. I love being social and being the best person I can be. I enjoy playing basketball and talking on the phone. I have...