MLK Walk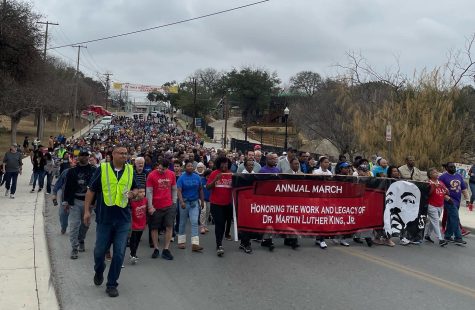 The MLK March is a Martin Luther King Day celebration. Every year, it is celebrated on the third Monday of January. If you do not know why we celebrate him, it's because he was an activist and pastor who promoted and organized non-violent protests. He played a pivotal role in advancing civil rights in America and brought publicity to major civil rights efforts. He is also famous for his "I had a dream" speech in 1963. His "I had a dream speech" was to let people know how much he wanted African Americans to have freedom. As we can see today Martin Luther King is very respectful. He saw how he and others were being treated because of people's skin colors and he decided his dream was to get people to understand that it's not right for us to judge others by our skin color.
For the MLK March, community members go downtown in New Braunfels in Prince Solms Park and continue to the Plaza and the New Braunfels Civic/Convention Center around every year on Martin Luther King day. This year was the 8th year it was celebrated. Originally, no more than 50 people were expected, but throughout the years, it's been celebrated and grown more and more.
This year, donations were raised for Food for Kids, and some donations went to the Gruene United Methodist Church's food programs.
Our teachers here at Canyon High School would like to see more people out there next year from our school, but they still had a great time. Let's make it better next year.

About the Writer
Jayden Hopper, Staff Writer
Hello! I'm Jayden Hopper. I'm a freshman at Canyon High School. I do out-of-school softball. My favorite subject is math. I enjoy playing with my brother...