Mrs. Letzerich: A New Addition to the Cougar Family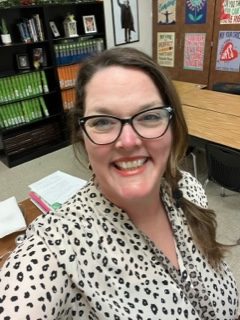 A great teacher can be defined as someone who sees the possibilities in each student. They don't allow their current abilities to distract them from what is achievable. A great teacher will see the heart of a student and the student themselves as a whole. Mrs. Letzerich is a great new teacher this year at Canyon High School. She teaches junior and senior English. 
Mrs. Letzerich started teaching twenty-eight years ago. She explained, "I didn't choose English; English chose me." She originally went to college to go to law school and her English professor pulled her aside and asked her if she wanted to change her major. Letzerich made the switch and has loved teaching English ever since. She also said that her high school English teachers were a big reason why she became a teacher. Letzerich is inspired by "people who take whatever circumstances they're given and they make the best of them and they carve out a life for themselves."
Letzerich's first job was right after high school teaching young kids how to swim. "Some of them are great swimmers and some of them are terrified of the water, and my job every year was to get them as familiar and as comfortable in the water as I possibly could… Every summer I would have kids who were terrified of the water and then, by the time they were finished with lessons they would swim across the pool, and they would be so proud of themselves. I just knew, 'okay that's what I want to do with my life': was to watch people do things that scared them and that were hard, and celebrate when they mastered them." 
She also explains her teaching style, "is just to figure out everyone's comfort level with what we're trying to do and then lead everyone to the depth of, instead of the water, literature or writing. Starting from wherever they start and whatever comfort level they have, getting them all the way to the same place where everyone is successfully and happily navigating it on their own and realizing you absolutely can do this. You can read hard things and fully understand them. You have thoughts to share, and you can write them in a beautifully organized way. And for some people, it's easier than others, but it's just like any other skill. The more you practice, the better you get at it until everybody can get across the pool, so to speak." She sees the possibility of growth in every student and uses her skills to encourage her students to pursue that growth.
Most of Mrs. Letzerich's teaching experience has been in private Christian education. She said "[public school] is very different in that it's far more collaborative. I get to work with really interesting people who have taught me a lot of new things about the trade and the craft of teaching." She describes the students of Canyon High School as "very fun, very friendly, and really teachable. That's been the thing I noticed the most is that all of my students are willing to try." Letzerich says that her favorite part of the day is laughing with her students.
Finally, Letzerich explains, "I'm really thankful for the opportunity to be here and to work with kids who are growing up in New Braunfels. I had grandparents who lived here when I was little… And I remember I would come visit them when this was just a tiny little town and I just have watched it grow over the years. Now my parents live here and to see it turn into such a vibrant, thriving community and to have it be a place where I have so many memories of my own childhood just to work with kids who are living and growing in the same spaces, it's pretty cool."