Stand Out Teacher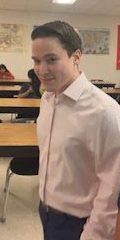 At Canyon High, we have many great teachers of all different ages, ethnicities, and backgrounds. One of those great teachers is Mr.Verleye. He stands out due to the fact that his energy, no matter what mood he is in, is the same. Not only is his energy great, but his teaching is too! There is never a day his students do not learn something.
When students are asked who their favorite teacher is, the name Verleye always is brought up in the conversation. Lindsay Dietert, a sophomore here at Canyon, said, "Mr. Verleye is by far my favorite teacher; he is so good at breaking down things so I can understand them better." He truly has been appreciated here ever since his student teacher days.
Thank you so much for joining Canyon High School and making a difference here. We are so thankful for all of our teachers and the improvement they make at our school.
About the Contributor
Jalen Suarez, Staff Writer
My name is Jalen "Chacho" Suarez. I love being social and being the best person I can be. I enjoy playing basketball and talking on the phone. I have...